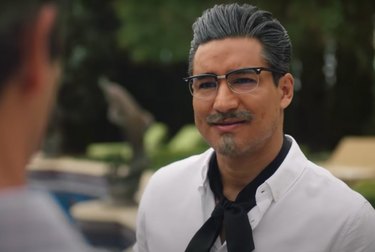 As if 2020 wasn't already weird enough, it just got weirder. Mario Lopez is playing hunky Colonel Sanders in a Lifetime Original Mini-Movie Presented by Kentucky Fried Chicken. That's right, a movie about KFC.
​A Recipe for Seduction​ is only 15 minutes long, which is probably more than enough time to tell a story about fried chicken and... seduction. And speaking of storyline, here's the official synopsis from Lifetime's website:
"As the holidays near, an heiress (played by ​Bosch​ alum Justene Alpert) contends with the affections of a suitor handpicked by her mother. When the handsome chef arrives with his secret recipe and a dream, he sets in motion a series of events that unravel the mother's plans."
The cast also includes Chad Doreck, Tessa Munro, and Martin Mandela. It's unclear if fried chicken makes an appearance, but one can only hope.
Is ​A Recipe for Seduction​ a love story, a thriller, a comedy, or horror? That question may or may not be answered when the mini-movie premieres Sunday, December 13th at 12pm ET on Lifetime.