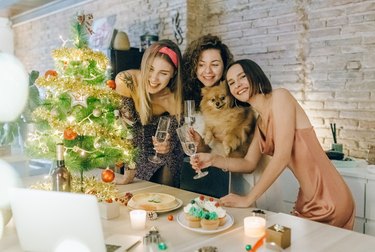 New Year's Eve and New Year's Day are going to look different this year, but that's to be expected. The good news, amongst the never-ending bad news, is that Zoom is lifting its time limits so you can spend as much virtual time with your friends and family as you want.
Normally, the free Zoom accounts offer 40 minutes of video chatting before the meeting is cut off. Zoom says there will be no time constraints beginning at 10 a.m. ET on Dec. 30 to 6 a.m. ET on Jan. 2.
To schedule your celebration, launch the Zoom app and use the scheduling tool to apply all the event details, then send out the meeting link to whoever you want to invite. By now, most people know how to navigate Zoom, but of course there will always be that one friend or great aunt who can't figure out how to turn on their camera. But instead of wasting 20 of the 40 allotted minute performing tech support, you'll at least have all day to help them figure it out.
In addition to New Years Eve, Zoom also lifted time limits for Thanksgiving, Christmas, and the last day of Hanukkah.