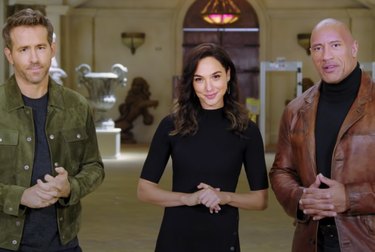 Netflix is doing its part to keep our movie night queue stocked and to help us escape the realities of life right now. So, cancel all your non-existent social plans and clear your empty calendar, your at-home movie theater is about to get a lot of action.
Every week in 2021, Netflix will release a new film, which will mostly consist of Netflix Originals, as well as some others the streaming platform scored the rights to. The movie genres will be all across the board, including musicals, romantic comedies, action, and family animation. Plus, some Netflix films like "To All the Boys" and "The Kissing Booth" will get the final installments in their trilogies.
Expect to see films made by award-winning filmmakers, as well as big celebs doing their thing, including Melissa McCarthy, Zendaya, Sandra Bullock, Dwayne Johnson, Jason Momoa, Lin-Manuel Miranda, Halle Berry, Leonardo DiCaprio, Jennifer Lawrence, Gal Gadot, Tyler Perry, Ryan Reynolds, Chris Hemsworth, Octavia Spencer, Cate Blanchet, and Amy Adams.
Here's every movie coming in 2021
​Outside the Wire​ (Jan. 15)
​The White Tiger​ (Jan. 22)
​Penguin Bloom​ (Jan. 27)
​Finding 'Ohana​ (Jan. 29)
​Malcom & Marie​ (Feb. 5)
​To All the Boys: Always & Forever​ (Feb. 12)
​A Winter's Tale from Shaun the Sheep​
​Rise of the Teenage Mutant Ninja Turtles​
​The Last Letter from Your Lover​
​There's Someone Inside Your House​
​The Woman in the Window​
​Forcetick, tick...BOOM!​
​Trollhunters: Rise of the Titans​
​Untitled Alexandre Moratto​
​Untitled Alicia Keys Rom-Com​