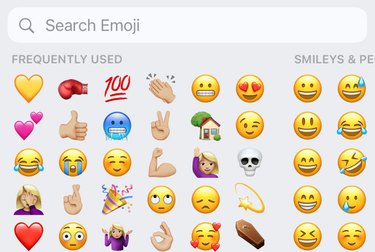 This isn't life altering news, but if you regularly use emojis, this fun little tidbit going to make your experience quicker and easier. Yay for easier! iOS 14 lets you search for the emoji you want to use instead of scrolling and scrolling and scrolling... and scrolling until you find the right one.
Now when you tap the smiley face emoji symbol at the bottom left of your iPhone screen, a Search Emoji bar appears above the emojis. You can still scroll to find your perfect emoji, but if you prefer a faster and more efficient approach, simply type in what you're looking for.
So let's say you want to use something other than the laughing crying emoji, which according to a CNN Business report, the Gen Z TikTok crowd says "older people" use too much (that's us... older people). Type in the name of the emoji you want to use in the search bar and it'll appear. If you want to use an emoji that Gen Z has declared hip (which means it probably isn't on your frequently used list, because... old), go for the skull face emoji, which means "I'm dead," aka dying from something being so funny or ridiculous.
Now would actually be a good time to use it.