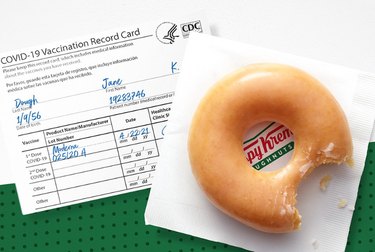 If the life-saving benefits of getting a COVID-19 vaccine aren't motivating enough, Krispy Kreme is offering even more of an incentive: free doughnuts.
Any Krispy Kreme customer who presents a valid COVID-19 vaccination card will receive a free original glazed doughnut. But not just one doughnut — vaccinated folks can get one free doughnut every day for the entire year.
It's a nice way to reward those who are helping themselves and others by getting either the Pfizer, Moderna, or Johnson & Johnson vaccine, but some have pointed out that providing a doughnut a day isn't exactly beneficial to anyone's health — especially since obesity is a problem for many Americans and a risk factor for COVID-19. (The CDC reports that obesity was prevalent in 42.4 percent of Americans in 2017 and 2018.)
Stephen Colbert tweeted that free doughnuts are great for anyone who still has a death wish.
Krispy Kreme's CEO Mike Tattersfield defended the promotion in an interview with Yahoo! Finance. "We're a sweet treat company, [and] if folks don't want to visit a donut shop, they don't have to," Tattersfield said.
If you want a free doughnut, the promotion is going on now at every Krispy Kreme store in the U.S.