If your kiddo is in need of a new helmet, head (pun intended) over to Amazon, because the number one best-selling kids' helmet is currently on sale, and it's giving off some major cool vibes. Plus, who doesn't love a good sale?
The helmet is from a brand you've probably never heard of, which happens a lot on Amazon, but that doesn't mean the quality is diminished. Sold by Ouwoer, the helmet comes in three adjustable sizes: small (18.9 in. to 21.3 in.), medium (21.3 inches to 22.4 inches), and large (22.4 inches to 24 inches). To put those sizes into perspective, the small works well for most toddlers, the medium is good for kids starting around the age of four, and the large is good for kids around 10 years old and above.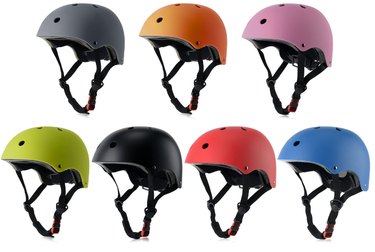 The company suggests measuring your child's head circumference if you're unsure about the sizing. To do this, take a flexible measuring tape and measure around the entire head, including the hair. Place the measuring tape 1 inch above the eyebrows and just above the ears. Take general measurements and use the largest one.
While it looks like a skateboarding helmet, it can be used for anything, including scootering, bike riding, and of course, skateboarding. It's available in seven matte colors that are actually aesthetically pleasing. (If you've seen other kids' helmets, you know that's hard to come by.)
The price of the helmet was originally $37.99, and it's currently on sale for $22.99. If you check the box for the extra savings coupon, you can get an extra 6 percent off at checkout. And if you order with Prime, you can get it in two days.
One reviewer wrote, "I wasn't sure how to rate this at first, as my 1.5 year old wears it when she shreds gnar on her balance bike. But she loves wearing it, so it must either be comfy or she just knows she look swaggy in it. No crashes yet, but it seems durable enough! Cool matte finish and the extra set of thick pads helps it to fit snug on her wee head!"
Another reviewer wrote, "The helmet includes a thin and thick set of removable (velcro) inner pads, as well as a chin strap cover. Helmet has plenty of room to grow into."