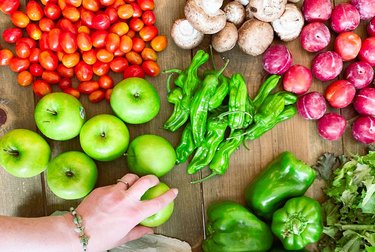 If you're tired of constantly schlepping to the grocery store because your family goes through so many fruits and vegetables (but yay for fruits and veggies!), you might want to consider trying a produce delivery service.
There are several reasons to subscribe to a fruit and vegetable delivery service. The obvious being to help lessen the need to grocery shop, but also to give your kids the opportunity to taste new fruits and veggies they may otherwise never try, to save money, and to waste less food.
We put together a list of the best produce subscription boxes to help you find the right one for your family.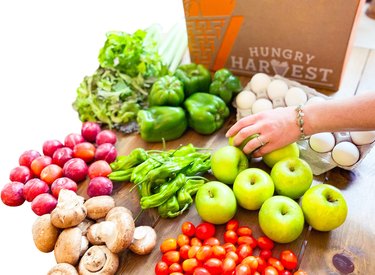 Hungry Harvest boxes come in a variety of sizes and options ranging from $15 to $42. Choose from mini, full, or super size boxes of fruits and veggies or just fruits or veggies by themselves. There are options for strictly organic boxes as well. You can customize your boxes so you don't end up with anything your family won't eat. You can also add weekly add-ons to your boxes, including grocery store staples like bread, eggs, coffee, soups, pickles, etc.
The company prides itself on rescuing fruits and veggies from farmers and suppliers that might otherwise go to waste and turning them into boxes of fresh ingredients delivered directly to doorsteps. To date, Hungry Harvest has donated 1.7 million pounds of produce to people in need.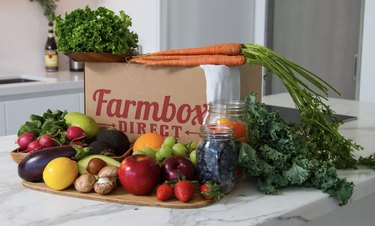 Farmbox Direct offers small, medium, and large fresh and seasonal boxes that come directly from farms, including fully organic boxes. The box sizes are based on the number of meals you can make with the produce. A small box can make three to four meals, a medium box can make four to five meals, and the large box will make five or more meals.
A cool thing about this company is the option to sign up for a green, orange, or red juicing box so you can make your own juice at home. Before each delivery, you can select if you want fruits and veggies, only fruit, or only veggies in your box. And you can take a look at exactly how many of each item will be in the box, so no surprises. Also, the packaging is all made with eco-friendly, biodegradable, and easy-to-recycle materials.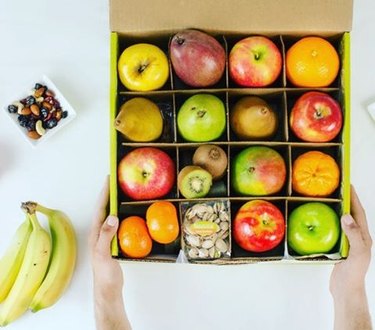 Branch to Box started out delivering to offices but have since branched out to home deliveries as well. The company offers weekly, biweekly, monthly, or one-time shipments of fruit and snack boxes, fruit-only boxes, and snack-only boxes. Most of the fruits are grown by the company, so you know you're getting freshness. New options are offered each week, including a featured fruit that comes with a backstory and instructions on how to eat it. Each piece of fruit comes in its own compartment which ensures it won't get bruised or smashed in transit.
Pricing starts at $30 for a small box that serves three to six people and goes all the way up to $110 for the jumbo box, which serves 21-35 people. You can also purchase a snackette box full of dried fruit and nuts, as well as an avocado box.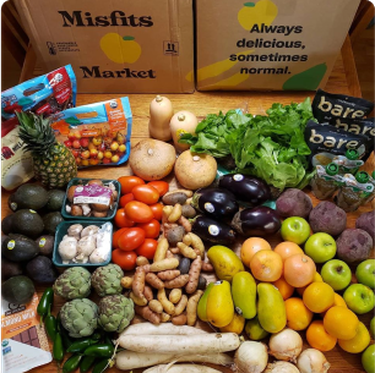 Misfits Market is all about fighting food waste with organic produce and sustainably sourced pantry staples delivered directly to your doorstep, saving you up to 40 percent off grocery store prices. Each week you can customize your produce preferences and add discounted pantry items.
The starter box contains 10 to 13 lbs of fresh, mixed organic fruits and vegetables and the larger box contains 18 to 22 lbs of produce. You can have a box delivered weekly or biweekly.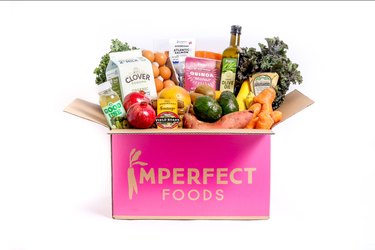 Imperfect Foods provides seasonal produce and a wide range of grocery products, including eggs, meat, seafood, coffee, grains, prepackaged snacks, and household items. The company sends fruits and veggies that might look imperfect — ones that could have a bruise or have an odd shape. They're the ones that can't be sold to grocery store chains and might otherwise go to waste, but they're still nutritious and perfectly fine to eat. You can customize your weekly box or take the company's recommendations based on your dietary needs and food preferences.