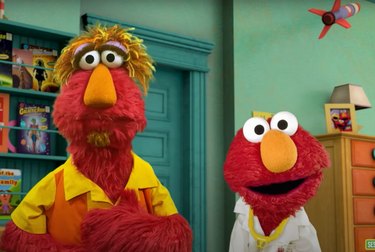 Elmo and his ​Sesame Street​ pals are doing what they can to convince grownups to get the COVID-19 vaccine so life can finally get back to normal. ​Sesame Street​, along with the Ad Council, COVID Collaborative, and CDC launched a series of PSAs to educate adults about vaccines and the importance of getting them. You'd think parents would understand the importance of getting vaccinated without help from Elmo, but here we are.
The three new videos feature Elmo, Abby Cadabby, Cookie Monster, and other ​Sesame Street​ favorites.
One PSA titled "Healthy Family with Elmo and Louie" features Elmo's dad, Louie, who explains that he got the COVID-19 vaccine so he can stay healthy and get back to the moments we miss, like seeing friends and family. He even got a sticker after his vaccine.
"I'll Be Seeing U" is a take on Billie Holiday's "I'll Be Seeing You" sung by the Letter U, with a montage of the Sesame Street friends as they are with their families and friends doing the simple things we all haven't been able to do since COVID began.
"Feeling Hopeful with Elmo and Louie" features Elmo and Louie feeling hopeful and excited about all the grownups getting vaccinated and soon being able to return to regular life with friends and family.
The takeaway — get your damn vaccine already.