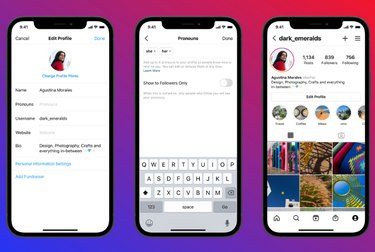 Instagram has added a dedicated space for users to add their pronouns to their profiles without taking up space in their bios.
The gender-inclusive update was announced on Tuesday, and it's a way for users who are gender diverse, those exploring their gender identity, and allies to represent and express themselves more accurately and freely. Users can choose up to four different pronouns, which will be displayed in lighter text next to their profile name. Of course, adding pronouns to your profile is completely optional.
Instagram's pronoun list currently includes 41 options, which is a great start. The social media platform consulted with several LGBTQ+ organizations to compile the pronouns, including The Trevor Project, PFLAG, and GLAAD.
co / cos
e / ey / em / eir
fae / faer
he / him / his
she / her / hers
mer / mers
ne / nir / nirs
nee / ner / ners
per / pers
they / them / theirs
thon / thons
ve / ver / vis
vi / vir
xe / xem / xyr
ze / zie / zir / hir
To set your pronouns, go to your profile page and tap Edit Profile. Then tap Pronouns and add the pronouns you prefer. If the pronouns listed don't represent you, Instagram recommends keeping the ones that do in your bio and using this form to request that they be added.