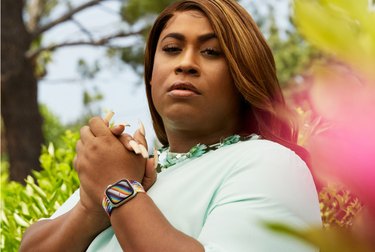 Apple's new Pride-themed Apple watch bands and faces are a loud, proud, and timely way to celebrate the LGBTQ+ community. Get it? Timely. Because watches.
The company has released new Pride-themed Apple Watch bands ahead of June's Pride Month every year since 2016. This year, the company is introducing two new statement bands and watch faces.
"Even before the events at the Stonewall Inn brought the LGBTQ+ movement to new prominence, Black, Brown, and transgender activists were key leaders in the march toward equality," said Tim Cook, Apple's CEO. "On many fronts, Apple supports the ongoing and unfinished work of equality for diverse and intersectional communities, and we want to provide every opportunity to celebrate and honor this history during Pride season."
The Pride Edition Braided Solo Loop weaves together the original rainbow colors along with various other diverse Pride flag colors throughout LGBTQ+ history. The band is designed for comfort without buckles or clasps, and you can choose from 12 different lengths for the best fit.
"Black and brown symbolize Black and Latinx communities, in addition to those who have passed away from or are living with HIV/AIDS, while light blue, pink, and white represent transgender and nonbinary individuals," Apple wrote in blog post.
The new Pride Watch Face mirrors the colors of the band to "represent the combined strength and mutual support of the LGBTQ+ movement." When your wrist moves around, the threads on the Watch Face scroll and animate.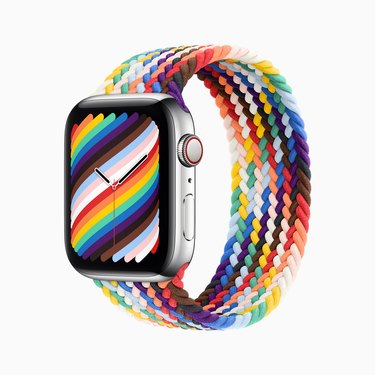 A new Pride Edition Nike Sport Loop is made of reflective yarn and rainbow colors, which makes for a great option if you want to rock Pride gear while working out.
Both bands are available to order now on Apple's website, in the Apple Store app, as well as in stores starting May 25. The Pride Edition Braided Solo Loop is $99 and the Pride Edition Nike Sport Loop is $49.