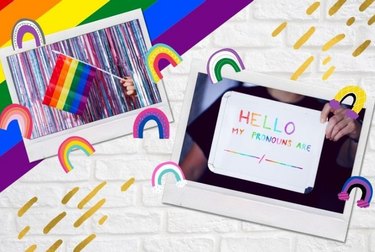 There's never a wrong time for kids and teens to learn about LGBTQ+ history — whether they identify as being LGBTQ+ or consider themselves to be allies. Outschool is on online education platform that's celebrating Pride month (and beyond) by offering a variety of live classes aimed at teaching tolerance, acceptance, and inspiring the youth LGBTQ+ community.
The classes give tweens and teens the opportunity to join other like-minded kids in small groups to learn about LGBTQ+ history, socialize in LGBTQ+ clubs, and even take a Pride-inspired vibrant makeup class. They're especially important for kids who don't have peers who identify as LGBTQ+, as the classes can feel like a safe space to talk about relatable feelings, life, etc.
Parents can offer their support, as well as help foster acceptance, empathy, and unity by signing their kids up for these classes.
"GSA's are student-led, teacher advised, clubs open to all of the student body regardless of sexual orientation or gender identity. We advocate for improved LGBTQIA+ education & social means for LGBTQ+ students and their allies. #pride"
"In this ongoing class, we will create a safe space for LGBTQIA+ and specifically bisexual teens to meet each other and have meaningful discussions."
"In this ongoing social club, we will meet weekly to discuss topics in the LGBTQ+ community, share experiences, provide support, and help educate each other on the diversity of sexuality and gender."
"In this weekly social club, we will discuss issues pertaining to LGBTQ+ challenges in addition to providing a safe space for these youth to socialize and learn confidence in their identity."
"In this one-time class, students will learn how to create LGBTQA+ pride flag makeup designs while discussing the many-layered meanings of each flag."
"In this class your learner will explore the history of LGBTQ+ culture through the lens of Black American history and discover the contributions made by pinnacle Black figures and how they are interconnected to our LGBTQ+ history."
"In this 4-week course, students will hear about LGBTQIA+ characters in mythology and learn more about what it means to identify with the community."