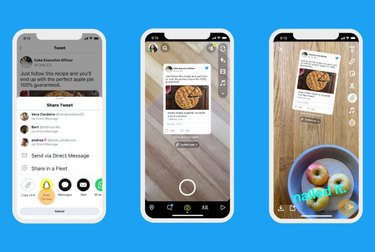 Twitter is making it easier for you to share tweets directly to your Instagram Story, you know, instead of going through the trouble of taking a screenshot and manually posting it that way.
The feature is available for iOS users. Simply tap the share icon underneath a tweet and tap Instagram Stories from the list of apps. It'll take you to Instagram where you can resize, reposition, and add whatever text, music, and stickers you want.
Twitter announced the update on Twitter, because of course.
Twitter also says it will be testing sharing a tweet as a sticker to Instagram, which you can access by tapping the Instagram icon in the tweet share menu.
Unfortunately, you still can't post an Instagram link to Twitter without it appearing as a plain URL without a preview card. Instagram did away with that feature back in 2012.
So far, only iOS users have access to the update, and Twitter hasn't announced when it'll become available for Android users. Stay tuned.