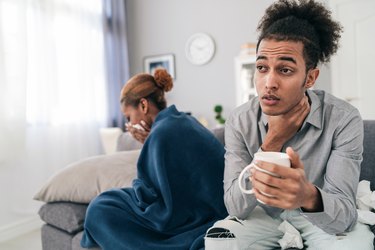 As the highly infectious omicron variant of coronavirus continues to rapidly spread, the Biden administration has come up with a plan for Americans to receive free at-home tests.
A website will be set up next month that will give people the opportunity to sign up for a free at-home rapid COVID test to be delivered to their homes. There will be 500 million tests distributed starting in January. The White House already has a website that directs people to COVID vaccine and flu providers.
Omicron is now the dominant strain of the virus in the U.S., according to the Centers for Disease Control and Prevention (CDC). With the holidays underway and so many traveling, attending holiday parties, and visiting family, it's unclear how much help waiting until next month for free at-home tests will provide — at least when it comes to gaining control over the spread of omicron. But the plan is certainly better than no plan at all.
President Biden's plan will also deploy 1,000 medical members of the military to hospitals that are overwhelmed with COVID patients and need help from as many doctors, nurses, etc. as possible. In addition, more free federal testing sites will be set up, and hundreds of federal "vaccinators" across 12 states, Tribes, and territories will be sent to help facilitate thousands of appointments over the next few weeks. Stay safe out there, folks.