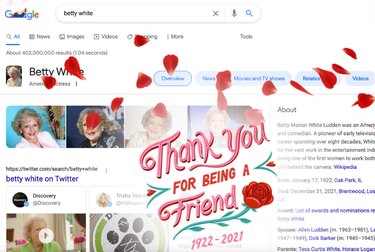 Today would have been Betty White's 100th birthday. Google is honoring her with a sweet surprise for those who search her name.
When you type "Betty White" into the Google search bar, red rose petals shower the results. A message also appears that reads, "Thank you for being a friend." The roses and message are a tribute to White's most iconic character, Rose Nyland, on "The Golden Girls." Of course, "Thank you for being a friend" is a lyric from the show's well-known theme song.
White died in her home on Dec. 31, 2021, just weeks before her 100th birthday. The actress was a five-time Emmy Award winner, and with her roles in "The Golden Girls," "The Mary Tyler Moore Show," and the more recent "Hot in Cleveland," she redefined the way people view older actors in Hollywood.
Fans are also honoring White's memory today by donating $5 to local animal welfare organizations and using the viral hashtag #BettyWhiteChallenge.
White was a longtime, outspoken supporter of animals and worked with several animal organizations to aid in rescues and rehabilitation.