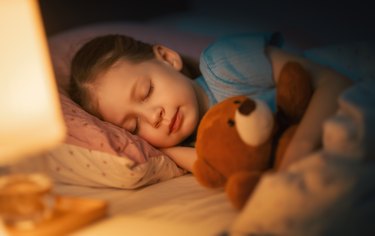 If your kids have a hard time calming down at bedtime, or are constantly asking for another sip of water, there's a new podcast that can help. Bedtime Stories with Netflix Jr. is a podcast designed to help your kids successfully transition to relaxation and sleep mode with stories told by the Netflix Jr. characters they already know and love.
Created with Dr. Tina Bryson, childhood development expert and author of "The Whole-Brain Child," each episode is developed with the goal of giving parents some extra tools to help their children wind down and fall asleep, while also building skills to navigate the world.
Episodes are around 10 to 15 minutes and feature characters from ​Ada Twist, Scientist​; ​Go! Go! Cory Carson​; ​Trash Truck​; ​Ridley Jones​; ​StarBeam​; ​Chip & Potato​; and ​StoryBots​. Most of the episodes center around teaching kids about the importance of sleep and how it affects our bodies.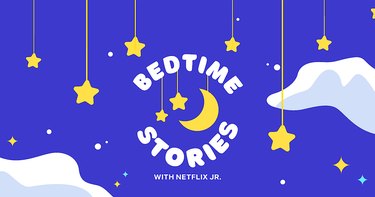 Here's the full list of episodes along with their descriptions:
Episode 1: "Why Do We Need Sleep?" featuring characters from ​StoryBots​. The super helpful Storybots explore why everyone needs to sleep and how it is so much more fun than staying awake.
Episode 2: "Mystery Before Sleeptime," featuring characters from ​Chip and Potato​. Chip and Potato go on an adventure to find a missing jewel before going to sleep.
Episode 3: "Lobo's First Sleepover," featuring characters from ​Super Monsters​​.​ Lobo is having his first sleepover with Frankie, but just needs a little bit of help when it comes to winding down for bed and quieting his mind to go to sleep.
Episode 4: "Calm in the Storm," featuring characters from ​StarBeam​​.​ StarBeam is determined to get a good night's sleep and calm Miserable Marla down — Marla is keeping everyone awake with her storming.
Episode 5: "Tooth Fairy Bells," featuring characters from ​Ada Twist, Scientist​. When Ada Twist loses a tooth, she, along with The Questioneers, develop a plan to meet the tooth fairy.
Episode 6: "Dino-Night Rescue," featuring characters from ​Ridley Jones​​.​ Dante can't fall asleep without his favorite stuffed animal, but unfortunately it's lost. Ridley and Dudley help Dante find his favorite stuffy just in time for him to get comfortable before falling asleep.
Episode 7: "Tire(d) Swing," featuring characters from ​Trash Truck​​.​ Hank and friends must chase down their tire swing after it rolls down a hill. This gets them just a little tired — get it?
Episode 8: "Where's My Yawn?" featuring characters from ​Go! Go! Cory Carson​​.​ When Freddie accidentally "catches" Cory's yawn, the two must team up to get it back before bedtime.