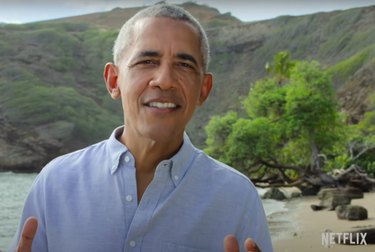 There's a lot going on in the world right now, but if you need a calming voice to remind you that life is still good, you should watch Netflix's new documentary, ​Our Great National Parks​, hosted and narrated by former President Barack Obama.
​Our Great National Parks​ is a five-part series that explores wildlife around the world. Barack and Michelle Obama are producing the documentary for Netflix via their Higher Grounds Productions company, which was announced last February, but there was never a mention of Barack lending his voice and talent.
"A fish that can walk. Surfing hippos that want to catch the waves. Species found nowhere else on earth," Obama says in the trailer for ​Our Great National Parks​. "When humanity started to protect these wild places, we did not realize how important they would become: They're a haven for endangered species, and a hotbed for scientific research."
Check out the stunning trailer:
The documentary hits Netflix on April 13, 2022.