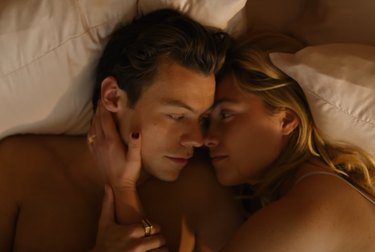 The talents of Harry Styles aren't just one directional, as is turns out. The uber famous musician is now a movie star, and the trailer for his new movie has just been released.
​Don't Worry Darling​ is directed by Olivia Wilde, who also stars in the film and also happens to be in a relationship with Styles. So, that's cute and fun. Also starring Florence Pugh, Nick Kroll, Chris Pine, Gemma Chan and KiKi Layne, the psychological thriller is about a 1950s housewife, played by Pugh, who lives in an experimental utopian town housing the men who work for the top-secret company along with their families. When Alice discovers the disturbing truth behind her husband's glamorous company, her life begins to unravel.
​Don't Worry Darling​ hits theaters Sept. 23.