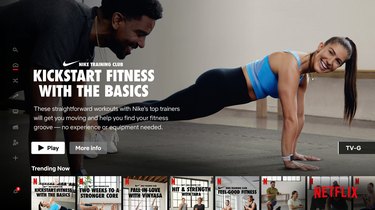 Netflix is jumping on the fitness content bandwagon. The streamer has teamed up with Nike to offer subscribers workout videos, just in time for potential New Year's fitness goals.
Netflix subscribers now have access to workout videos that come from Nike Training club, which are workout programs led by Nike trainers. Most require no equipment, while some only require minimal equipment like free weights.
The first round of videos are available now and the programs are for people of all fitness levels, including fitness basics, vinyasa yoga, high-intensity interval training (HIIT), and strength and core training. One of the HIIT classes, for example, is a two-week program that encourages you to participate three times a week. The second batch of fitness videos will land on Netflix later in 2023.
The videos are available for all subscribers no matter which plan you have, and they are offered in 10 languages. They're a great way to jumpstart your workout goals without paying anything extra for a gym or a trainer — and perhaps the best part is that you don't even have to leave your house.