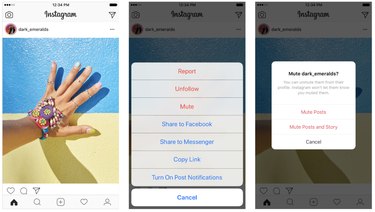 Muting someone's Instagram posts or stories allows you to hide their content without unfollowing them. So, if a friend or relative continuously posts their political views, which happen to be the opposite of yours, a good way to remove them from your feed is to mute them. The best part (besides you living your life in peace and only viewing content that's personalized to your liking) is that the person will never know.
When you mute an account, you can still view posts on their profile page and receive notifications about comments or posts that you're tagged in. You can unmute an account at anytime to get their posts back in your feed.
How To Mute Instagram Posts and Stories From Your Feed
On a post from the person you want to mute, tap the menu (three dots) in the top-right corner.
From there, you can choose to mute posts or both posts and stories from an account.
To mute from a story, press and hold the person's profile icon in your story tray.
How To Mute Someone's Stories or Posts From Their Profile Page
Go to the profile page belonging to the person you want to mute.
Tap the Following button, which is located below the section with the person's name, bio, and website link.
A pop-up menu will appear. Tap Mute.
Select if you'd like to mute their posts, stories, or both.