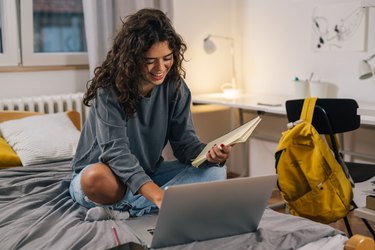 Whether your grown up kid has already left for college or is currently packing things up to head out, it's never too late to send them off with a gift — especially if that gift is completely practical for college life.
From power banks to noise canceling headphones to smart pens, scroll on for tech device gift ideas that'll make the transition to the dorm room a little easier.
This Power Bank To Keep Devices Charged In Between Classes
Given how often college students use their phones, it's best to have a power bank on hand in case the phone dies. This multiple device power bank can charge a smartphone one and a half times before needing a recharge.
This Alarm Clock And Sound Machine For A Gentle Wake Up Call
A great way to block out the sound of roommates is by using the Hatch sound machine. It doubles as a sunrise alarm clock that supports healthy cortisol levels, gently waking you up naturally as if it were the sun.
These Noise Canceling Headphones That Help With Focusing
Whether these wireless noise canceling headphones are used in the library while studying, in the dorm room to block out the sound of roommates, or on the bus, they can help with focus and reduce stress. The battery lasts up to 22 hours.
This Compact Wireless Printer
Instead of going to the library every time something needs to be printed, use this HP compact wireless printer. The all-in-one printer can print documents and photos, and it works with Alexa.
This Smartpen For Note Taking
This smartpen is the future of note taking (technically, it's also the present). The pen allows you take notes, and it also records everything you hear and say and links the audio recording to the notes on the Livescribe paper. It's helpful for those who might have hard-to-read handwriting or who want to hear the exact words said by the professor. The battery lasts up to 45 days.
This Power Strip Tower With USB Ports
This surge protector can turn one electrical socket into 11 plugs and three USB ports, charging and powering up to 14 devices at a time. Choose from 6-foot, 10-foot, 0r 15-foot cord.
Keep track of tech devices, backpacks, bikes, and more by using this four-pack of Apple AirTags. Use the Find My app to find lost items.
This Fire TV Stick To Stream Anything And Everything
The Amazon Fire TV Stick gives you access to your favorite streaming services like Netflix, Prime Video, Disney+, Peacock, and more. It's a great way to watch TV on an actual TV and not on a laptop or phone. Included is an Alexa voice remote.
This Portable External Hard Drive
This Smart Speaker With Alexa
Amazon's Echo Dot can work as a speaker for music, an intercom, a news source, an alarm clock, and a timer. It's an affordable way to play music any time.