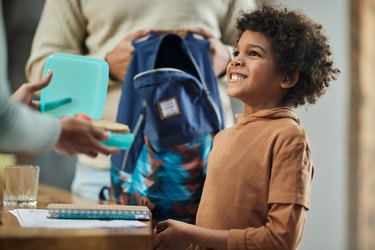 It's the start of a new school year, so there's no better time to buy your kiddo a new lunch box. Bento boxes work great for preschool and elementary school kids as the many compartments keep the food separate and organized. Some Bento boxes have only two compartments for larger food items, perfect for middle school and high school kids.
There are also insulated cooler lunch bags that work great for kids of all ages as they're meant to hold individually packed items while keeping food and a drink cool all day. If you go the cooler bag route, you don't need to buy an actual lunch box and a cooler, so that's nice.
Here's the thing though — lunch boxes can be pricey. I rounded up several of Amazon's most popular lunch boxes that are under $15. Check them out below.
This Bento Box With Three Compartments
At just under $15, this popular bento lunch box has three compartments for bigger portions. The box is leakproof with kid-friendly latches. It's microwave and dishwasher safe, which is perhaps the most important aspect of a kids' lunch box (easy cleanup is key). Choose from four colors and two sizes.
This Bento Lunch Box With Fun Accessories
If you're looking to spice up your child's lunch box, check out this bento lunch box that comes with adorable food picks, a small bowl with a lid, and six silicone cups to hold food.
This Bento Lunch Box For Older Kids
This top-selling bento lunch box has two compartments, making it a great option for older kids. It comes with a plastic fork, knife, and spoon that's held within the lid. Choose from six colors.
This 4-Pack Of Lunch Containers
Whether you use this four-pack of lunch containers for your child's lunches, snacks, or your own meal prep, they get the job done at only $12. They're leak-resistant, BPA-free, stackable, and dishwasher and microwave safe.
This Cooler Bag With Several Design Options
Designed for kids of all ages, this insulated cooler bag comes in 30 designs, so your kiddo is bound to find one they like. A mesh interior pocket holds an ice pack while an exterior pocket can hold a snack, phone, etc. There's plenty of room for individually packed items or a bento box and a beverage.
This Sophisticated Cooler Lunch Bag
This insulated cooler bag is great for big kids and teenagers who want to keep their lunch cool or hot until they're ready to eat it.With a large capacity, the bag can hold up to 11 cans of soda (not that your kid needs 10 cans of soda for lunch, but just for size reference). The bag comes in 14 color options.