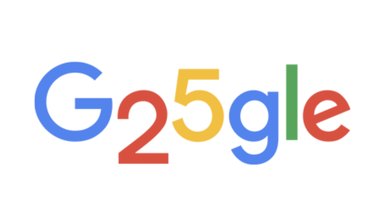 Google was created by computer scientists Larry Page and Sergey Brin in 1998. In honor of its 25th birthday, Google is offering some fun Easter eggs as a way to celebrate.
If you search "happy birthday," hum the tune, or ask Google to translate the words, you'll see confetti falling across the screen.
In addition, on Google's home page, the Google Doodle of the day honors the evolution of the logo, featuring the first design all the way through its current logo where the two O's in Google are replaced with the numbers 2 and 5.
A team of engineers and illustrators have created over 5,000 Google Doodles throughout the years celebrating important moments in the world, notable historical events, holidays, and more.
Happy 25 years to Google and to all the people who would be far less knowledgable without it (that's everyone).