If I manage to make it to the gym during the day, the last thing I want to do when I get home is walk the dog. Thankfully, there's an app for that—a few of them, actually.
A handful of apps offer to connect you to professional dog walkers as well as boarding, grooming services, and everything else you'd want for your pampered pooch. However, you don't have to worry about handing the leash (and access to your house) to just anyone; these services will put you in touch with caregivers that are trained, insured, and checked thoroughly. They also allow you to keep tabs on every visit.
Wondering which app is right for your best friend? Here are four of our pet-friendly favorites.
Wag! for Pet Services
Like Uber for dogs, Wag! provides 24/7 on-demand access to people seeking dog walking jobs as well as sitters and boarding services in your area. The app, which is available for iOS devices, can actually connect you with an insured, bonded, and dog-loving walker in as little as 30 minutes. You can even set up recurring service, so Fido will be walked on a regular basis.
Once your dog is picked up, Wag! sends a notification to your phone, so you can track that walk through GPS and the app's Puppy Tracker feature. Once the dog is returned home, you get a Pup Report, with info on the walk time and distance, a pee/poop update, other notes, and even a photo of your walked pooch.
Wag! is currently available in Austin, Berkeley, Boston, Chicago, Denver, Los Angeles, Miami, New York, Oakland, Orange County, Portland, San Diego, San Francisco, San Jose, Seattle, and Washington DC. Pricing may vary by market, but typically costs about $20 to $25 for 30 minutes.
PetBacker Dog Walking App
PetBacker is similar to Wag! in that it allows users to find pet sitters and dog walkers around them on demand. You can access this service through the PetBacker website, Android app or iOS app and allow the service to find a dog walker for you without having to do much work. The service advertises you can connect with a walker with only a single click or tap, making it a good choice when you're short on time and don't like the hassle of searching through potential walkers.
One thing that sets this service apart is its comprehensive rating and review system. In addition to seeing verified information and reviews about each walker, you'll be able to chat with each applicant and see both cost and rating information immediately, making it easier to make your hiring decision. You can also rest assured that the service's dog walkers' identities have been verified.
To use PetBacker, just head over to the site or app, specify that you're looking for dog walkers and follow the easy questionnaire to get matched to some walkers in your location.
Rover for Walkers and Sitters
Out of all of the services on our list, Rover.com has the widest reach, promising over 65,000 dog walkers and pet sitters across all 50 states. Available for iOS and Android devices, this app allows pet owners to find, book, and manage care 24/7.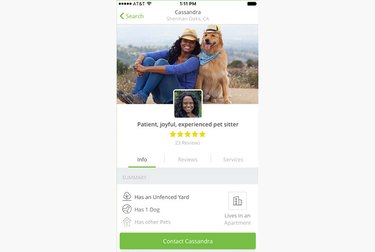 Just search for a walker or sitter in your area. Rover performs background checks on every dog walker and sitter, but you can also browse through photos of each candidate's home, pets, and reviews. Then the service can arrange a meeting so you can decide whether this walker is right for you—and your pet. Rover even allows you to pay for services right through the app.
To find out if Rover offers services in your area, just search the site. We punched in several different zip codes and found dog-friendly walkers within driving distance to all of them. Prices vary based on the walker/sitter, but are included in every profile listed.
Care for General Caregivers
Available in over 15 countries, Care can put you in touch with caregivers for children, seniors, homes, and even your four-legged friends.
Care users can search for dog walkers, sitters, trainers, groomers, and options for boarding through the website, as well as the Care iOS and Android apps. There are even cat caregivers on there as well! Care supplies a profile on each caregiver, filtering results based on location and when you need service (which includes an "immediate" option).
It's free to search for caregivers, but if you want to actually make contact, there's a fee involved. For $37 per month (or $147 a year), Care users can view contact details, make contact with an unlimited number of caregivers, purchase background checks, and access assorted references.