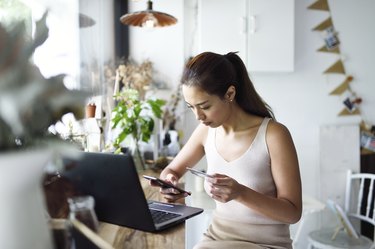 Amazon is the top online marketplace for buying everything from clothing and books to groceries. Once you place an order, you may want to amend it to have an additional product ship with it. Although there is no Amazon add-to-order feature, you can place the order, and Amazon takes it from there. The Amazon distribution centers usually consolidate orders automatically, even when they are placed separately.
Amazon Add to Order
Unlike other services, when you order something on Amazon's website, the warehouse automatically consolidates it with other products you've ordered. If you order something for delivery on Tuesday, and you already have another package coming on Tuesday, both items arrive on that day, whether they were in the same shopping cart or ordered separately.
Amazon also has a variety of shipping options that you can use to control your deliveries.
Amazon Day Delivery: Choose this option during checkout to designate a fixed day each week when you can expect all your Amazon packages to arrive.
Fewest possible packages: If you select this option at checkout, Amazon automatically consolidates everything scheduled to arrive that day.
Fastest delivery available: With this option, Amazon ships items as they become available, which means you may receive multiple packages on the same day.
No-rush shipping: If you aren't in a hurry to get your item, no-rush shipping is an option worth considering. You get a reward for choosing to have your packages arrive later. The reward can be applied to digital products on Amazon, such as books and music.
Adding Items to Shopping Cart
If you still have an open shopping cart, you can continue to add items to your order until you're ready to check out. You can leave items in your shopping cart for weeks before checking out. Just be aware that different items often have different delivery dates, regardless of when you purchase them.
One handy feature you may want to note is the Save Item for Later option. You may have something in your cart you plan to buy, but it isn't as pressing as something else you just added. Click Save for Later next to the item quantity in the cart to drop the no-rush item down to a list you can reference later when you're ready to buy it.
Increasing Quantity in Shopping Cart
What happens if you want more than one of a specific item? If you haven't yet checked out, change the quantity to the desired number in your shopping cart.
You can also delete items in your shopping cart if you change your mind about them. The Delete link is next to the quantity in your shopping cart. You can also toggle to 0 on the quantity list, which erases the item.
Add to Amazon Fresh Order
Many customers now buy groceries through the Amazon Fresh service. If you're in a city that offers this service, you may occasionally request that Amazon add to your order before it arrives at your house. In some markets, you can add products as long as the order hasn't yet been processed. Go to the Amazon Fresh website, choose the items you want to add and select Add to Fresh Order.
In some cases, you may want to cancel your order altogether. This option is only available for items that haven't yet shipped. Go to your list of orders on the Amazon Fresh website and scroll to the order you want to cancel. Choose the check box next to the items you want to cancel and select Cancel Checked Items. If you want to cancel the entire order, select every box and choose the cancel option.