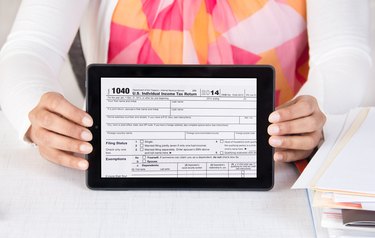 Electronic filing is a technologically advanced method for submitting public records, like any other system, it has both advantages and disadvantages. Electronic filing is fast becoming a favored practice when it comes to filing your taxes.
Advantage: Speed
One advantage of using an electronic filing system is speed. Obviously, using technology is much faster than utilizing a local postal service. For instance, when filing your tax income, using the Internet and emailing tax forms directly to the IRS will only take minutes. No need for standing in lines and manually filling out forms.
Convenience and Practicality
A taxpayer who files his taxes via the traditional procedure will usually have to consult accountants, agents or tax preparers, going back and forth for additional information, waiting for the agent to finish and approve the paperwork, and sending forms to the IRS. With electronic filing, taxpayers can conveniently send a tax return anytime during the week. This constant availability allows a taxpayer to conveniently pay at his own convenience, whether during a weekend, a holiday, or on evenings. Taxpayers can easily handle their taxes and finances right at their own homes, with just a few clicks of a mouse. You can save a lot of money when you practice electronic filing since you don't have to use couriers, postage stamps, and fax messaging. Since electronic filing means you don't need to send actual records and documents, you can quickly complete your forms without having to leave your home.
Disadvantage: Security
Filing records electronically may not be as secured as sending them via mail or post. Especially for those who employ an outside or third party service to do the electronic filing for them, you are providing identifiable information that the service may keep on file for a long period of time. This means that more individuals can have access to your information. In a particular case wherein you are supposed to receive tax refunds and you want it done immediately, you will have to provide your bank account number and routing number for the deposit to take place. Thus, your data is less secure.