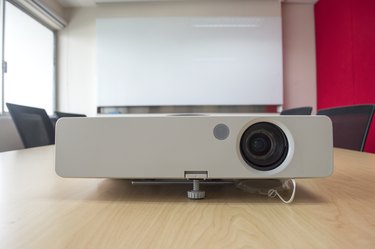 PowerPoint is the presentation software of the Microsoft Office software suite. One of the most widely used office programs, PowerPoint has applications for personal use, academics and business. It is highly customizable; you can edit PowerPoint presentations to be as personal or professional as you want. PowerPoint has a relatively simple user interface which you can easily pick up. However, mastering each of its functions will allow you to create impressive presentations to engage your audience.
Design
The design features of PowerPoint allow you to customize the appearance and format of the slides. PowerPoint typically comes with a set of preloaded themes for you to choose from. These can range from simple color changes to complete format layouts with accompanying font text. Themes can be applied through the whole presentation or a single slide. Using the page setup allows you to optimize the presentation for the display size; for instance, you should use a larger screen ratio when displaying on a projector compared to a computer screen.
Animation
PowerPoint animation is divided between slide transitions and element animation. Using slide transition adds an effect when switching slides during a slide show. You can edit the transition effect and timing, as well as opt for an on-click or automatic transition between slides. Element animation adds movement and sounds to the objects within the slide. For example, if you're constructing a photo gallery as a slide show, you can choose which pictures enter the slide first, how they enter and add a sound as they enter.
Presentation
The presentation function of PowerPoint is largely designed to accommodate public speaking. PowerPoint comes with a built-in notes function; when printing out presentation slides, you can add presenter notes beside each slide as accompanying content. This is useful to clarify points in the slide without sacrificing the slide's readability. As of the 2007 version of PowerPoint, you can pre-record narration for a presentation. PowerPoint also has a rehearsal function as well, allowing you or your team to practice your timing and monitor the length of your presentation.
Integration
PowerPoint is compatible with all other software in the Microsoft Office suite; you can export slides into Word documents or use Excel charts within your presentation. In addition to image and audio support, PowerPoint 2007 also has video-integration functionality; you can embed videos within a presentation for easy playback without exiting the program. You can also export presentation files to an online interface for multi-user remote editing and presentation practice.