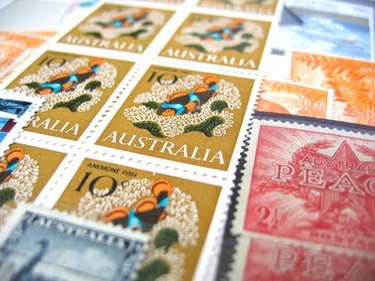 Using the United States Postal Service website, you can calculate the cost of stamps, and therefore how many stamps you need to buy, for any letter or package. Manila envelopes are typically classified as large envelopes, depending on their size. You can calculate the amount at home, get the appropriate amount of stamps and send your package on its way, all without stepping foot inside a post office.
Step 1
Log on to the United States Postal Service website at usps.com. Click "Calculate Postage" at the top of the website.
Step 2
Select "Go" under "Calculate Domestic Postage" if you are sending the envelope within the country. Otherwise click the link under "Calculate International Postage." The postage will depend on how far it is going.
Step 3
On the Postage Price Calculator page, select your destination country from the drop-down list.
Step 4
Enter your home ZIP code and your destination's ZIP code.
Step 5
Enter the date on which you will be mailing the package.
Step 6
Under "Select Shape," click the circle next to "Large Envelope." Click the question mark icon to double-check that your envelope falls within the dimensions of a large envelope. If it is larger, select "Package" instead.
Step 7
Place the manila envelope with your mail inside on the postal scale. Record the weight in pounds and ounces. On-screen, enter the figures under "Under Weight." Click "Continue."
Step 8
Select the type of service you want to use. Each shows the calculated postage for your envelope. It is cheaper if you buy the stamps online as opposed to the post office. It is more expensive if you choose Express Mail versus Priority Mail.
Tip
For the most savings, select "Priority Mail." Do not select "Priority Mail Flat Rate Envelope," since you already have your own envelope. Then, select "Print Postage" to pay for the postage online and print it out. Attach it to the package and send it on its way.