OS X Mavericks doesn't provide many options to change your mouse cursor. Change the cursor's size using the Accessibility options. If you want something more, you'll need to look to third-party apps to change color and style or add effects.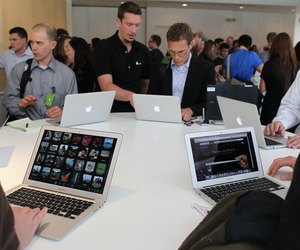 credit: Justin Sullivan/Getty Images News/Getty Images
Step
Select "System Preferences" from the Apple menu.
Step
Click "Accessibility" and choose "Monitor" from the panel.
Step
Drag the "Cursor Size" slider to the left to make the mouse cursor smaller or to the right to make it larger.