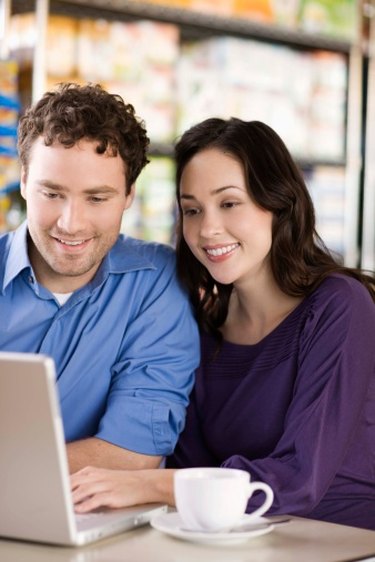 Your ability to play Blu-Ray discs on your laptop depends on your individual laptop. While many modern laptops offer Blu-Ray drives as of March 2011, not all do. Also, many older laptops don't have this capability built-in either. However, even if your laptop didn't come with a Blu-Ray drive, it may still be possible for you to watch Blu-Ray discs on it.
Blu-Ray Drive
Many laptops on the market are available with Blu-Ray optical drives that come pre-installed. All you need to do is turn your laptop on and put a Blu-Ray disc in the drive. Your laptop should then prompt you to play it via the default Blu-Ray player software on your system. If your laptop didn't come with an integrated Blu-Ray drive, you can buy an external Blu-Ray drive and plug it into an open USB port on your laptop.
Drivers
If you have to buy an external Blu-Ray drive, you'll also need to install the proper drivers for it so that it works with your laptop. If your operating system is plug-and-play, such as Windows XP/Vista/7 or Mac OS X, your computer will automatically search for the correct drivers for your external Blu-Ray drive. If this doesn't happen, search the drive manufacturer's website for applicable drivers.
Considerations
Before buying an external Blu-Ray drive, check out the specifications it requires of your computer. Like other hardware and software, individual external Blu-Ray drives may only work with certain operating systems, or require your laptop to have a certain amount of memory. If you've got a very old laptop with limited memory and an older operating system, you may need to upgrade your laptop before purchasing and using an external Blu-Ray drive. If your laptop has an HDMI port, you may be able to play Blu-Ray discs on your laptop while viewing them on your TV by connecting an HDMI cable. HDMI stands for "high definition multimedia interface," and has multiple applications including high-definition video gaming, such as via PlayStation 3 or Xbox 360.
Warning
Blu-Ray is a separate format from DVD. While Blu-Ray drives can also play DVDs, not all drives marked DVD can play Blu-Ray discs. Generally, most Blu-Ray drives have a Blu-Ray logo on them. If you're unsure whether or not your optical drive plays Blu-Ray discs, check with the manufacturer. If it's an integrated optical drive, check your laptop model's specifications. If it's an external optical drive, check with the drive's manufacturer.