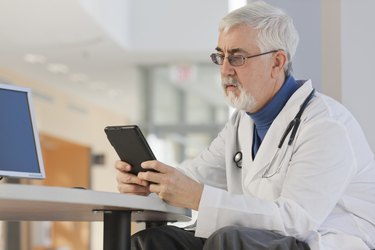 Until recently, Microsoft didn't offer mobile versions of its widely used Microsoft Office desktop apps for devices besides its own. On an iPad, you relied on third-party Excel-compatible apps to view, create, and edit Excel spreadsheets and workbooks. As of June 2014, however, Microsoft offers you two ways to work on these files directly on your iPad using the real deal.
Excel Web App
Excel Online -- one of the Microsoft Office Online suite of apps -- is a scaled down Web version of the desktop app that you can use for free. To utilize it on an iPad, navigate to the Microsoft Office Online website (see Resources) and tap its icon. Whether you choose to create a new workbook, browse templates or open an Excel file stored on OneDrive, Excel Online permits you to manipulate it. You can create tables, edit data, write formulas and build basic charts. It also allows you to share files with multiple people for simultaneous modification and collaboration.
Excel Mobile App
Excel for iPad -- part of Microsoft's Office 365 suite of apps -- enables most desktop Excel capabilities on your device. It offers two levels of functionality -- view and print only with a free account, and full editing capabilities with a paid personal, home or business Office 365 subscription. Tap "Activate" within the app to purchase an annual Home subscription or obtain other subscription options -- including a free trial and monthly plans -- on Microsoft's Office 365 website. A paid subscription increases OneDrive cloud storage capacities by 20GB per user and includes the use of Excel Online.
Excel App Comparisons
With Excel Online, you gain capabilities you wouldn't otherwise enjoy -- including real-time co-authoring, embedding a spreadsheet on a Web page and creating online surveys. However, you'll also have to do without many traditional Excel capabilities -- including advanced formulas, replace, offline viewing and authoring, freeze panes, conditional formatting, recommended charts, advanced time filtering, external data creation, what-if analysis, external data connections, advanced analysis views, chart animations, data validation, smart formatting, audit and compliance and extensive social media integration. By comparison, the iPad for Excel app touts considerably fewer omissions. You can't use macros and advanced data management add-ins, import external file data, perform advanced sorting, or add or edit comments and pivot tables.
Excel App Requirements
You'll need to set up a free Microsoft account before using the Web or mobile Excel app. This account gives you an initial 7GB of free cloud storage on OneDrive, which serves as the hub from which your Excel files -- whether generated by a Web, mobile or desktop app -- are transferred and shared among them and devices. Both Web and mobile apps require a sound Internet connection and capable Web browser to run on an iPad; additionally, Excel for iPad requires iOS 7. To sync the Excel files on OneDrive with other devices -- and get the most from a paid subscription -- you'll also need to install Office 365 software on your linked computer and mobile devices.