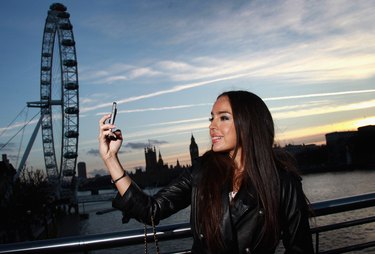 Your iPhone comes equipped with an easy-to-use camera -- a great feature for those photo-worthy moments. You can access those pictures on a computer by syncing your device, but that can be a long process. Instead, use the Snapfish app to store and share those pictures. It's quick, and you can do it from anywhere with 3G or Wi-Fi access.
What Is Snapfish?
Snapfish is an online service that allows you to store and share your photos, as well as print and share pictures and create personalized albums and gifts. Using Snapfish, you can store your pictures safely online, so that they don't take up space on your computer. Online storage is also a good idea as a backup, because it gives you a way to access your photos in the event the originals are lost or destroyed. Snapfish sharing allows you to create albums online and share them with friends and family through email. You can let friends and family access to all your albums or just select albums.
Load Photos on the Go
Using the Snapfish application for your iPhone, you can upload photos you've taken from your iPhone without transferring them to your computer. This allows you to back up your pictures instantly and without transferring them to your computer. It's also convenient when you're away from a computer for a long period of time, such as when on a vacation. You can upload your photos instantly from your iPhone, and then erase the photos from your device to free up space for more photos.
Get Photos on the Go
The Snapfish application also gives you access to your entire Snapfish account from your iPhone. From your phone, you can view all of the photos you've uploaded, making it easy to look at pictures you don't have stored on your device. You can also share photos through this app, sending your photos to others through text message or email.
Getting the App
The Snapfish application is easy to find and free to load onto your iPhone. From your device, bring up the App Store and tap "Search" at the bottom of the screen. Type "Snapfish" into the text field at the top of the page and tap "Search." Tap the free app to open it, and then tap "Buy" and "Install." You will need to sign in to your iTunes account if you are not already logged in.