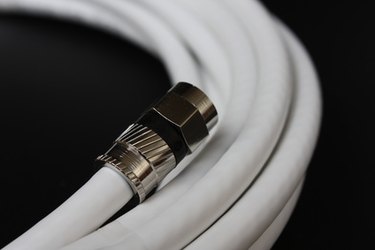 Both Cat6 cable and RG6 cable can be used to connect your HDTV. The Cat6 cable connects your HDTV to your home network if it is Internet-ready, and the RG6 cable transfers the signals from your TV service to your HDTV.
RG6 Cable
RG6 cable, commonly known as coaxial cable, is used to transfer both audio and video signals to your TV from your TV service. It is variously used for satellite service, standard broadcast antennas and cable connections, and is a stronger version of RG5 cable.
Cat6 Cable
Cat6, or ethernet, cable is used to transfer data between network computer telecommunications ports. If your HDTV is Internet-ready, you can use a Cat6 cable to connect it to your home network for Web browsing and other online applications. Cat6 is a more advanced, higher bandwidth version of Cat5 cable.
Considerations
For strictly TV viewing needs, the RG6 cable is esential for your HDTV. While the Cat6 can be useful, it is only required for the secondary data uses of the HDTV.