Comcast offers Internet customers free installation with the Comcast self-installation kit. Everything you need to set up your Internet service is included in the kit, including cables, modem, install CD and a cable splitter, if you have cable service. Having a technician come out to install the Internet service costs a service fee. Doing it yourself saves you money.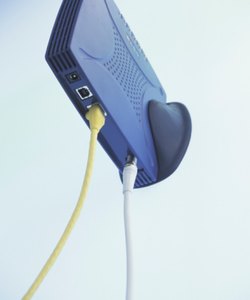 Step
Open the box and check that all included parts match Comcast's list of things required to install your modem.
Step
Attach the first coaxial cable included in the Comcast self-installation kit to the cable splitter with two prongs. Screw the other end to the modem provided by Comcast.
Step
Unscrew the coaxial cable from the cable-receiver box that also attaches to the wall. Screw that coaxial cable, now running from just the wall, and attach it to the splitter with a single prong.
Step
Screw the third coaxial to the cable box and attach it to the last open prong on the splitter, which is the side with two prongs.
Step
Insert the Ethernet cable into the Ethernet port of your computer and plug it into the Comcast modem or wireless router.
Step
Plug the Comcast modem into the electrical socket to turn it on and then turn on your computer.
Step
Open the Comcast Internet self-install CD and place it into your CD-ROM drive. Your computer will begin the self-install process, which requires only clicking "Install."
Step
Contact Comcast by phone when the installation on your computer is complete. Comcast customer service will activate your Internet service, which will then be ready to use.