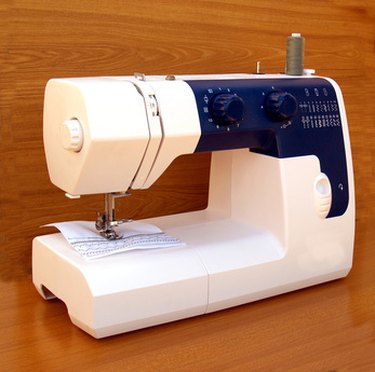 PES files are used by Brother, Babylock and Bernina sewing machines to store embroidery patterns. If you have an image stored in a PDF file that you would like to embroider, you can convert the PDF file into a PES in just a few minutes.
Step 1
Upload your existing PDF file to a free conversion website and convert it into an image file. (See Resources.) PNG files are preferable, since they maintain the best image quality, but TIF, JPG/JPEG and BMP are also acceptable.
Step 2
Save the resulting image file to your computer.
Step 3
Open PE-Design center and open the Design Center.
Step 4
Open the image file you saved in Step 2 by going to "File," "Input," "From a File."
Step 5
Select up to five colors to convert into black outlines. Use the pen and eraser tools to change line thicknesses if needed. Unselected colors will be converted to white. Click "Next."
Step 6
Modify the stitch length, if the stitches automatically created by the program are not to your satisfaction. Click "Next."
Step 7
Modify thread colors, stitch types and any other formatting choices until the embroidery design is to your liking.
Step 8
Save your design as a PES file by going to "File," "Write to Card," "Other: PES Files."