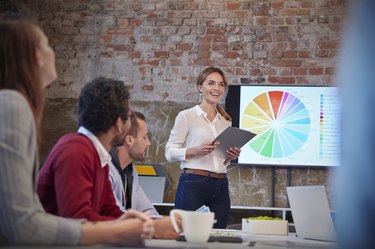 When you want to make a slideshow complete with text and multimedia content, Microsoft PowerPoint can handle whatever you throw at it. A PowerPoint presentation can share important information such as a business plan or educational lesson, or it can be useful for entertainment purposes.
You have a lot of control over customizing a PowerPoint presentation and can start quickly with templates and a variety of useful tools. Microsoft offers a free basic web version of PowerPoint but requires an Office 365 subscription to get the most from the powerful program.
PowerPoint Presentation Description
The basic purpose of a PowerPoint presentation is to communicate information or media through a series of slides. Along with regular text, your slides can contain numerous types of content such as tables, images, drawings, charts, links, word art, videos, audio and even embedded add-ins from Microsoft. The software also has built-in editing tools that you can use to resize, position and update content without needing to open items in other applications.
Using PowerPoint
Often, you narrate a presentation when you give it live or record audio for viewers when you're sharing your presentation to a group remotely. However, you can also include all the important information in the slides themselves or in the speaker notes found below each slide. The program comes with presentation planning tools that can help you both with the narration and timing of the presentation.
PowerPoint also gives you flexibility with presentation styles. You can share your presentation online and let other users view or even edit the content. You can also use the slideshow format that you can configure to show slides at a specified time interval, set up a custom display format or add extras such as subtitles.
Popular PowerPoint Features
Some of PowerPoint's most popular features include the built-in slide designer and templates that can help you make presentations quickly without needing much knowledge of the process. For example, by opening the program's template library, you can generate a starter file with a title slide with your preferred background, layout and color scheme. You can then use the program's duplication option to generate more formatted slides easily. Even if you make a presentation from scratch, you can use a Design Ideas button that generates a list of ready-to-use slide styles to select.
Other helpful PowerPoint features include the built-in transitions and animations, text highlighter and drawing tools. The transitions and animations make your presentation look professional and interesting with effects like fading, growing and shrinking, morphing and zooming. The text highlighter and drawing tools make it easier to point out information as you give presentations. The latest PowerPoint also lets you insert 3D models that users can interact with.
Common Uses of PowerPoint
Whether you use one slide or many, you can find uses for PowerPoint in many professions and areas. Some examples of PowerPoint projects include:
Work portfolios
Business meetings

Tutorials for students and workers
Photo slideshows
Mailing labels
Resumes
Timelines and flowcharts
Family trees
Calendars
Flyers

How to Get PowerPoint
If you're comfortable with a limited version of PowerPoint that you access through your web browser or mobile device, you can use your free Microsoft account to sign in to the OneDrive version of all the Office products. This version allows for collaboration and gives you access to some templates like the paid versions do. However, you can expect some advanced editing options and features – like live narration recording – not to work.
Otherwise, you can purchase the Office 365 Personal or Office 365 Home version of Office that gives you access to the software on all platforms. You pay either monthly or yearly and gain access to all of PowerPoint's premium features along with perks such as a large amount of storage on OneDrive, technical support and access to other popular Office apps. Office 365 Home allows up to six users versus just one for Office 365 Personal, so your whole family can benefit.