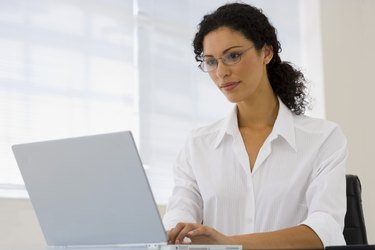 Has your Windows taskbar suddenly moved to the side of your desktop screen or even to the top? This can be very disruptive to your daily computing, which may mean a loss of productivity at work. Your taskbar could have moved because of a glitch in programming or an inadvertent mouse click while you were focused on something else. The latter is more common and is usually the result of an unlocked taskbar.
Older Windows Operating Systems
Windows 98, Windows ME, Windows XP and Windows Vista all utilize similar solutions for this problem. For the quickest route to returning the taskbar to the bottom of the screen, first place your mouse pointer over empty space on your taskbar (space not occupied by an icon or a button indicating an open program) and right-click. Look near the bottom of the menu that appears for the "Lock the Taskbar" listing, and make sure there is no check mark next to the listing. If there is a check mark, it means the taskbar is locked and cannot be moved, so click on the listing to deselect (and unlock) it. With your mouse pointer again over an empty space on the taskbar, click and hold the left mouse button and then move the mouse pointer to the bottom of the screen. When you release the left mouse button, your taskbar should have moved. As long as the taskbar is unlocked, you can also vary its height. Hold the mouse pointer over the upper edge of the taskbar until it becomes a double arrow (pointing up and down). Then click and hold while you drag the upper edge of the taskbar to the size you desire. Once you have the taskbar where you want it, remember to lock it again by selecting the listing on the right-click taskbar menu. Another option is to visit the Microsoft Windows website and download and run an automatic "Fix it" program, which should take care of programming issues.
Windows 7
There are three options for moving the taskbar in the Windows 7 operating system. The first option involves right-clicking on an empty space in the taskbar and then navigating to the "Properties" menu (look near the center of the menu) to set the location of your taskbar on your screen. This menu also allows you to change or establish a number of other default settings relating to your Start menu and taskbar. The second option is exactly the same as the first process given for the Windows operating systems previously mentioned. And again, to prevent the format you have established from changing, lock the taskbar by right-clicking on an empty space of the taskbar and selecting "Lock the Taskbar" from the menu. The third option is a bit more involved and requires downloading registry files (files ending in ".reg"), saving them to your desktop and then double-clicking on them to merge them with your operating system. The files can be deleted after use.