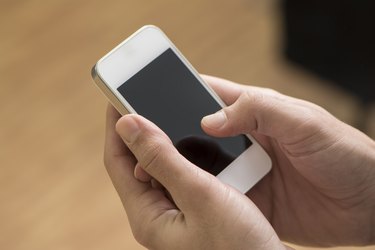 When you contemplate streaming media wirelessly between your iPhone and home theater or audio system, you might be tempted to invest in all kinds of AirPlay-certified hardware. After all, Apple uses AirPlay on its computers and devices to stream media. However, other streaming technology may already be integrated in your existing setup. It's called Digital Living Network Alliance technology. To enjoy DLNA on the iPhone, install a DLNA application.
How DLNA Works
The "A" in DLNA stands for Alliance for good reason. What started as a Sony initiative in 2003 has grown into a coalition of IT, mobile device and electronics manufacturers committed to integrating DLNA streaming technology into products. The goal of this nonprofit trade organization is to ensure product interoperability over a wireless home network. DLNA-certified devices are equipped to discover, connect and communicate with one another over a shared network, which potentially gives you, the consumer, multiple options by which to play back and display video, audio and photo files.
DLNA-Supported Media
Many popular digital formats can stream directly to and from DLNA-compatible devices. These include a wide variety of MPEG-format video files; MP3, WAV, WMA and high-resolution FLAC audio files; and JPEG and PNG digital photo files. To begin streaming these files, you connect the DLNA-certified devices to your network -- understanding that the quality of the stream depends largely on your network's reliability and capabilities.
DLNA-Certified Devices Exclude iPhone
With billions of DLNA-certified products available on the marketplace encompassing many kinds of products and functionalities, DLNA is one of the most pervasive media distribution technologies. You'll find the technology integrated into everything from appliances to audio video systems, network speakers, digital cameras, camcorders, DVD and Blu-ray players and game consoles. You'll also find many DLNA-capable gateway devices and routers, network attached storage, personal computers, photo frames, printers, projectors and set-top boxes. Among mobile devices, nearly every major smartphone supports DLNA including Nokia Windows, Android and Blackberry 10 devices -- but not the iPhone. That's because Apple devices use Apple's proprietary AirPlay technology rather than open-source DLNA to stream content.
Enabling DLNA Streaming on iPhone
While the iPhone doesn't natively support DLNA, you can download and install apps that make it perform as though it always has. Some well-rated iOS apps such as the Onkyo Remote 2 work with specific DLNA-capable brands or receivers, while others such as the TV Assist, ArkMC, MoliPlayer and nPlayer stream media broadly across players and receivers. Still others, such as the Creation 5 PRO app, enable both DLNA and AirPlay streaming. Some DLNA apps function as dedicated media servers and many, with permission, can access your existing media repositories in the cloud, computer or other storage device. They then make your stored media libraries available to the DLNA-capable media players on your network for playback and display.