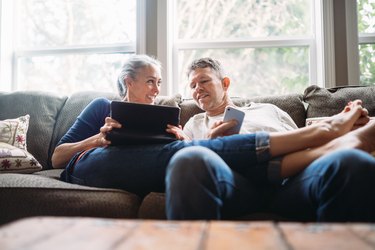 In modern digital connected society, you may be surprised at just how much information about other people you can access at the click of a button. Although people have had access to various forms of contact information for other people — think back to the original White Pages telephone directory — for a long time, this type of information accessibility has since been expanded to allow individuals to explore a trove of additional data.
An excellent example is what is known as a reverse address lookup. Using the information freely available online today, you can source the resident of a specific address using only the street address in question. You can complete this process in a few simple steps.
Tip
Discovering who lives at a specific address is commonly referred to as a reverse address lookup. Services such as the Whitepages website enable individuals to complete a reverse address lookup at no charge.
Exploring Address Lookup Basics
You can quickly begin locating the resident of a specific residential address, even if you only have the address itself on hand. The process of a reverse address lookup is available at a wide array of online platforms that provide this service to internet users.
The methodology behind the service is relatively straightforward. Reverse lookup platforms consult freely accessible public records to match the address provided with the name of the property owner or resident. This process may seem unfamiliar to some, but it is not in any way illegal or unethical. Many businesses have a vested interest in determining who exactly resides at a specific address. It is precisely for these types of inquiries that this service exists.
Address Lookup Options
If you are just getting started with a reverse address lookup, you may consider a simple Google search as your first option. Although there is no guarantee that this will provide the intended results, it's a good first option before diving into the more customized services, if only because it also the quickest search option available. If this method works, you have no need to search any further. However, in the event that Google is unable to match a name to an address, you can use a different platform to complete your inquiry.
One of the most popular and well-established information retrieval services available is Whitepages. To this day, Whitepages has maintained its services across a diverse array of platforms, effectively transferring and expanding its original paper-based directory into an expansive online service. Upon arriving at the Whitepages website, users have the option to initiate one of four types of searches:
A search for information on an individual using a name and address
A reverse phone number lookup
A reverse address lookup
The Yellow Pages business directory
Using Whitepages for an Address Search
After clicking the reverse address tab, individuals can directly input the address in question. You need to provide the street address in addition to the city and state for the property in question. After initiating the search, a variety of information is retrieved. In some situations, individuals are able to see not only who owns the property in question but also who currently resides there.
The search also provides detailed information related to the square footage of the property, the number of bedrooms in the home, the size of the lot and more. As could be expected, this information is immensely valuable for real estate investors and those who are considering purchasing a property nearby.