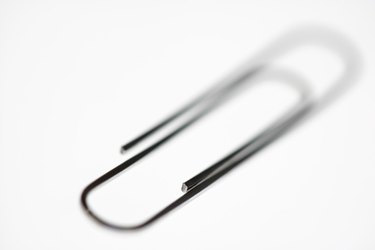 You probably don't think of a word-processing program as something "fun," but Microsoft Word, over many years and many releases, has some interesting stories and facts surrounding it. From fan sites to people who hate "Clippy" to those who design games to help learn the program -- Microsoft Word's hidden fun facts may cause you to look at this program in a whole new way.
History
In 2008, Microsoft Word turned 25. "PCWorld" reports the program's name was originally "Multi-Tool Word," but the marketing department felt that was too long, so they shorted it to its current title, "Word." Word's first developers were Charles Simonyi, Bill Gates, Paul Allen and Richard Brodie. Version 1 of Word, released in October 1983, was designed for Xenix and MS-DOS systems, and this version was only a slight improvement over word-processing programs of the past. Word 1.0 for Mac was the first Word version driven by a mouse and containing drop-down menus, and this version outsold Version 1 for more than four years. Microsoft released Word Version 1.0 for Windows in 1989, at a price tag of $500. Word underwent numerous upgrades and releases, culminating with Word 2010, which is the most recent release at the time of publication, which carries a suggested retail price of $149.99 for the "Home and Student" version, which also includes Excel, Powerpoint and OneNote.
Clippy
Word 1997 introduced "The Office Assistant," also known as "Clippit" -- and also nicknamed "Clippy." This tool looked like a little paperclip that popped up when he thought he could offer a "tip" about how to use Word. Far more people hated Clippy than loved him. In fact, Brodie, the author of Word 1.0, compared his feelings for Clippy to a cat's feelings about taking a bath. Microsoft "retired" Clippy as it unrolled Word 2007's "Ribbon," and most users were glad to see him go.
Games
"Ribbon Hero" and "Ribbon Hero 2," designed by Office Labs, are games that help users learn the features of Word 2007 and 2010. Players download and install the game, and then play it directly from Word by pressing the tab added to the Word Ribbon. Users learn to navigate Word's features via "Clippy" -- who leaves retirement for his cameo in the game -- as well as comics, graphics, animations, space ships, multiple levels, time travel, Greek gods and hints about many useful features of the programs in the Office suite. Another game-type feature for Word is the inclusion of an "Easter Egg," or secret game hidden within the program. In Word 97, users could complete a sequence of steps that involved typing and formatting the word "Blue," eventually unlocking a pinball game that used the letters "Z" and "M" for flippers.
Song
In a parody of Limp Bizkit's song "Rollin' (Air Raid Vehicle)," The Funny Music Project wrote and produced the song "Scrollin." The lines of the song refer to features of Microsoft Word, with lines such as "Paste in now cut out/Page up now page down" and "One two three format numbered list/Tab stops every sixth and every eighth of an inch."