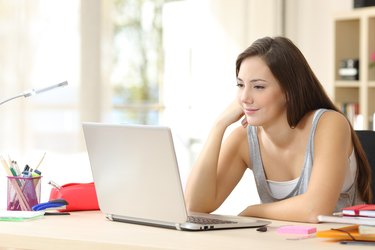 With over 500 million people using the Microsoft Office suite of applications, according to David Goldman of CNNMoney.com, Microsoft Word is one of the most frequently used software applications in the world. Microsoft Word is available for a free trial from the Microsoft website. After exploring the application during the trial period, purchase a product key from Microsoft to continue using it.
Step 1
Go to the Microsoft Office Online Products Home Page (see Resources).
Step 2
Press the "Try Now" link. Press the yellow "Download Free Trial" button.
Step 3
Select your language and press the blue "Download Now" button.
Step 4
Enter your email address, first name and last name. Select your country or region. Press the blue "Create My Account" button.
Step 5
Press the printer icon in the lower left side of the window to print out your trial product key. Press the "Print Page" button and press "Print" in the browser pop-up.
Step 6
Press the gold "Download Now!" button and confirm that you want to download the file in the browser pop-up. Select the location where the file should be saved.
Step 7
Double-click on the downloaded file to launch the installer. Follow the onscreen instructions to install the application. You may choose to install only Microsoft Word or the entire Microsoft Office suite.