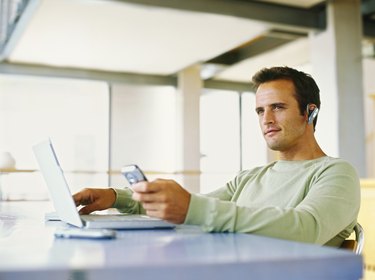 iPhone allows you to export and sync contacts, calendars, notes, bookmarks, photos and other applications to your computer. It is a convenient way to back up relevant data and saves time and effort needed to add every contact to your email application. After you export and synchronize the contact list, any change made on the iPhone shows up on the computer, too. You can use Outlook, Yahoo!, Google Address Book and other options to back up your contacts.
Exporting Contacts to Microsoft Outlook
Connect your iPhone to your computer with the USB cable provided with your device. You can also place the iPhone in the Apple Universal Dock. Once connected, iTunes, iPhone's default management program, opens automatically. Select "iPhone" under "Devices." Click on the "Info" tab, select "Sync Contacts With" and choose "Outlook." Choose "All Contacts" to export all contacts from your iPhone. For specific contacts, choose "Selected Groups," followed by checking the contacts you prefer to export and sync with Outlook. After you click "Apply," disconnect the iPhone and launch Outlook to see the list of imported contacts.
If you prefer, you can configure Outlook as your default program to export contacts. To do so, go to Microsoft Outlook, click on "Tools," choose "Options" and then "Others." Check the box "Set Outlook As Default Program for Messaging, Contacts and Calendars." Click "OK."
Exporting Contacts to Gmail
A quick and simple way to have a backup of your contacts on the web is to export them to Gmail. For that, you can use iTunes. Select "Info," "Sync Contacts With," "Google Contacts." After you click "Configure," add your Google username and password and click "Apply," your contacts are exported directly to your Gmail account.
Exporting Contacts to Windows Address Book
Windows Address Book is a handy place to export contacts for easy recovery. Launch iTunes and select "Info," "Sync Contacts With," "Windows Address Book." Click "Sync." Windows Address Book imports the contact list. To view, you can access the Address Book at "Start," "All Programs," "Accessories," "Address Book." Address Book also lets you export the complete list of contacts in a single WAB file, which you can save for future reference.