During day-to-day activities -- such as checking your Xfinity email account -- you don't need to know your Comcast account number, only your login name and password. The account number comes into play when dealing with account issues, such as paying your bill over the phone or moving your service to another address. In these cases, check your account number on your bill or on the Xfinity website.
On the Bill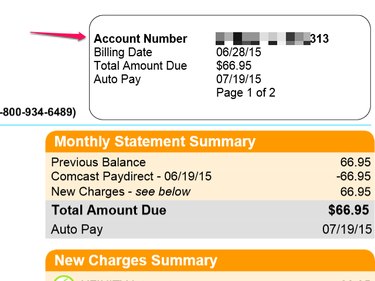 If you have a Comcast bill sitting around, check it to find your account number. Look in the box in the upper-right corner of the first page.
On the Web
Step 1
Step 2
Sign in using your Comcast/Xfinity account. If you use Comcast-provided email or online video streaming, use the same login credentials here.
Step 3
Close the pop-up ad, if one appears, and check your account number at the top of the Overview page.
Last Resorts
If you don't know your account password, reset it to regain access and find your account number. Other options include chatting with Comcast support online or calling Comcast at 800-934-6489. The support representative might start by asking for your account number to look up your account, so explain that you're calling because you don't know the number.