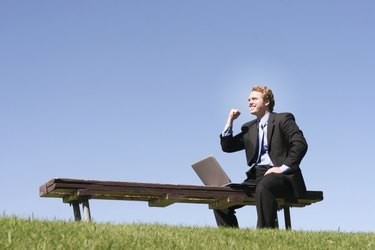 The AOL Desktop software has a built-in Web browser that allows you to save important Web pages as favorites. If you have dozens of favorites in AOL and want to make sure you never lose them, you can retrieve the favorite places and store them on your hard disk. Furthermore, you can transfer them to another AOL username. When you transfer them to another username, you can either replace the other username's favorites with your own or append them to the username's favorites.
Retrieving the Favorite Places
Step 1
Launch the AOL Desktop software, click the "Favorites" button on the toolbar and then click the "Manage" button to open the Manage Your Favorite Places window.
Step 2
Click the "Save My Favorite Places as a Favorites File on my Computer" option.
Step 3
Type a name for the favorites file, choose a destination folder and then click "Save" to retrieve the favorite places from AOL.
Transferring the Favorite Places
Step 1
Launch the AOL Desktop software, log in using another username, click the "Favorites" button and then click "Manage."
Step 2
Click "Replace My Favorite Places with a Favorites File" if you want to replace all existing favorites with the favorite places you retrieved from the other username. Click the "Append a Favorites File to My Favorite Places" if you want to append the retrieved favorites to the existing favorite places.
Step 3
Use the file browser to select the favorites file you exported from the other username and then click "Open" to import the favorite places. If you chose to replace the favorites, you need to click "Open" one more time.
Step 4
Close the Favorite Places window after the import process is complete.