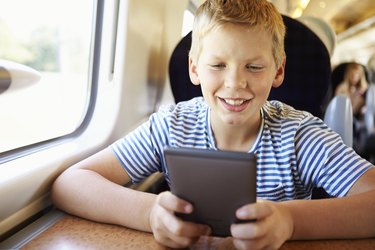 Amazon makes it easy to download new e-books to your Kindle. Once you're done with a title, deleting it from your Kindle's storage is even easier. Titles deleted from the Kindle still are available for download at any time. For those titles you are certain you won't want to read again, you can delete them permanently from your account using any Web browser. If you accidentally purchased an e-book you don't want, or feel the book isn't as good as promised, you also have the option to ask for a refund, provided you do so within 30 days of purchase.
Removing E-Books from a Kindle
Step 1
Press your Kindle's "Home" button to get to the Home screen, which shows you a list of your current e-books.
Step 2
Select the e-book you want to remove from your Kindle's storage. Move the cursor to the left to reveal the "Remove From Device" option. If you accidentally selected the wrong title, just move the cursor to the right.
Step 3
Press the "Select" button to delete it from the Kindle. If you change your mind, you can download the e-book again for free at any time.
Deleting E-Books Permanently
Step 1
Navigate to Amazon's "Manage Your Content and Devices" Web page (see Resources). After logging in with your Amazon account information, click the "Your Content" tab if it isn't selected already. This page displays all of the content you have purchased from Amazon or downloaded for free.
Step 2
Scroll through the list and click the check box beside any e-book you no longer want. If you have a lot of books, type a title or author name in the Description field to quickly find a book. You can also sort items by purchase date, alphabetically by author or title, or filter results to list Books or Kindle Unlimited content by using the menu buttons above the list. Beside each title is an Action button and a Select check box.
Step 3
Click the "Action" button beside any title to see a thumbnail of its cover and other details like its purchase price, a refund option if you bought the book recently, as well as the purchase date.
Step 4
Click the "Select" check box beside a title and click the "Delete" button to remove the book from your collection. A dialog box opens, warning that this action is permanent and that you will no longer have access to the title from your account. Click the "Yes, Delete Permanently" button.
Requesting a Refund
Step 1
Go to Amazon's Manage Your Content and Devices page (see Resources) and log in to your account. Select the "Your Content" tab.
Step 2
Click the "Actions" button beside to the e-book you want to return. Select the "Return for Refund" link. Note that this option appears only on e-books purchased within the last 30 days. A dialog box opens asking you to confirm your choice.
Step 3
Click the "Return for Refund" button. Amazon removes the title from your account and applies the refund to your credit card within a few minutes. It may take up to five business days for it to appear on your credit card account.
Tip
To prevent children from accidentally purchasing e-books, turn on your Kindle's Parental Controls. Press the "Menu" button from the Home screen and select "Settings." Turn the page and select the "Set" option beside Parental Controls. Select the "Turn Off" option beside Kindle Store, enter a password as prompted and select "Submit." You will need to enter this password each time you want to purchase an e-book, or to turn off Parental Controls.