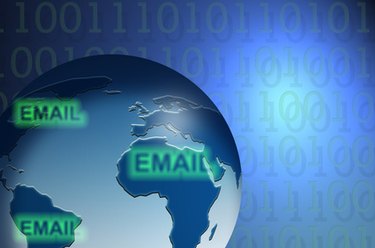 With its unusual folderless organization and nifty new features every time you blink, Gmail is a popular webmail application that melds an uncommon approach to email with all the basics of any other email client. Gmail users must accustom themselves to following conversation threads instead of organizing their messages into folders, but they need not forgo mail forwarding. There are two kinds of email forwarding: The first refers to the message recipient receiving a message and passing it along to another party; the second is the automatic forwarding of any message sent to one's email address to another email address, analogous to post office mail forwarding.
Manual Forwarding
Step 1
Log on to Gmail and click on the message you want to forward.
Step 2
Click on the arrow next to the "Reply" button in the top, right-hand corner of the opened message. Choose "Forward."
Step 3
In the field to which your cursor is automatically redirected on clicking "Forward," enter the email address or addresses of the people to whom you want to forward the message. To enter addresses from your Contact list instead, click the "To:" link to the left of the field, then select the name or names from the resulting screen, clicking "Done" when finished.
Step 4
Add text to the message, if you want. When the message is ready, click the "Send" button under the message window as you would for any other message.
Automatic Forwarding
Step 1
Log on to Gmail and click the "Settings" link at the top of the page.
Step 2
Click on the link toward the top of the screen labeled "Forwarding and POP/IMAP."
Step 3
Select the radio button labeled "Forward a copy of incoming mail to" and enter the email address to which you want to forward all incoming mail.
Step 4
Select an option from the drop-down menu that reads, by default, "keep Gmail's copy in the inbox."
Step 5
Click the "Save Changes" button at the bottom of the settings screen.