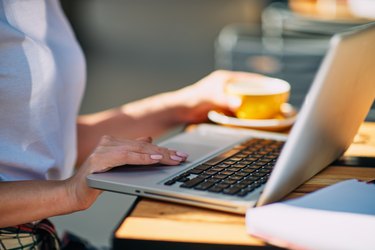 Before you can assign a URL code to a picture on your computer, you'll need to upload the picture to the internet. There really is no shortcut or image-to-URL generator that gets around the need to upload the image in order to get its URL. Unless you own a server, uploading your image file to an image hosting service is probably your best option for getting an image URL.
Turn a Picture Into a URL
A URL is an internet address that links to a web page or to an element on a web page. If you want to reference a picture on your computer with a URL, you first must find a place online to store the picture's image file. Once the file is uploaded, there are ways to access its URL. While you can post the photo on social media sites like Instagram and Facebook and copy the URL from there, anyone who wants to view them may have to sign in to the app. Image hosting sites typically provide public access to uploaded images.
Owners of Android smartphones may already have a Google Photos account where photos from their phone camera are automatically uploaded. When you view an image in an image hosting service like Google Photos, you can access the image's URL by making it public or sharing it.
In Google Photos, click on an image and pick the Share icon. In the Share panel, select Link. A URL is displayed that provides a link to a sharable album containing the image. You can copy the URL and paste it into HTML code or send it in an email. You can also use it any apps that ask for an image by its URL.
Find an Image Hosting Service
Beside Google Photos, there are several free image hosting services. Flickr has one of the longest histories, providing free image organizing tools as well as free image hosting since 2004 for members who create accounts. If you'd like to upload an image but don't want to sign up for an account, check out Imgur, a popular image hosting service for GIFs, memes and viral videos. The Tinypic service also lets you upload images without creating an account, though you're limited to image files smaller than 100 MB.
If you want to host images for use on a professional website, there are premium image hosting services like Photobucket that charge a subscription fee for hosting with extra services like image compression for improved display performance. You can also pay for an Imgur subscription for permanent image hosting under your account and services like view analytics of uploaded images. To find other image hosting services, do a Google search for "image hosting."
What To Do With an Image Link
There are several ways you can use the URL for an image. Besides sharing a picture by sending its URL in email and text messages, you can publish the image on a web page by entering the URL into the HTML code for a page. You can also make an image a clickable link in HTML.
For example, an image of a company logo is often displayed at the top of each page of company websites. The URL for the company's home page is associated with the logo image so that every time the logo is clicked, the home page is displayed.
Some image hosting services provide a couple of additional useful links beside the URL for uploaded images. An image's BBCode, or Bulletin Board Code, is a version of the image that's formatted for message board posts. An HTML thumbnail is a smaller version of the image that gives a preview of its contents and is linked to a large version of the image. Thumbnails are often used on retail websites to show compact product images.