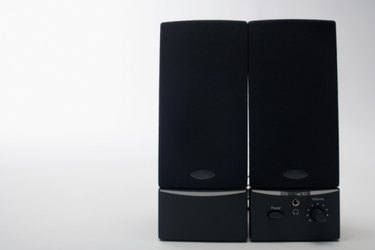 As long as your computer has a working sound card, you can connect a set of computer speakers or a pair of computer headphones to your tower to hear sound. If your sound is not working, you have several troubleshooting options that can help you determine the issue. The speakers may not be set up correctly or the computer sound settings may be incorrect. You may also have issues with your computer's sound card hardware.
Basic Sound Troubleshooting
Step 1
Plug your computer speaker power cord into a power jack. Ensure the speakers are turned on.
Step 2
Locate the sound card jacks on your computer's tower. The sound jacks are usually located on the back of your computer and are bright green in color.
Step 3
Plug your speakers or headphones sound jack into the green sound jack on your computer. Often, the sound jack on your speakers or headphones will also have a green color.
Step 4
Click the "Sound" icon in your computer's task bar. Ensure the volume slider is turned up.
Step 5
Right-click the Sound icon and select "Playback Devices." Ensure your speakers or headphones have a green check mark beside them in the list of devices. If they do not have a check mark, right-click and set "Set as Default Device," then click the "OK" button to make the changes.
Check Sound Card
Step 1
Click the "Start" button, right-click "Computer" and select "Properties."
Step 2
Click "Device Manager" from the menu on the right. This displays the hardware installed on your computer.
Step 3
Click the "+" sign next to "Sound, video and game controllers." If no sound card appears in this section, your computer cannot detect the sound card at all. This may require you to reseat the sound card inside the computer or replace it with a new card.
Step 4
Right-click the sound card. Choose "Properties" if you see a yellow question mark next to the sound card name. This helps determine the issue. Often, you can download and install new drivers for your sound card from the sound card manufacturer's website to fix hardware issues.