The Arris cable modem gives you the ability to connect to the Internet through your cable connection. Although you need to subscribe for Internet access through your local cable provider, you do not need to pay the monthly rental fee you typically pay when using a modem provided from the company.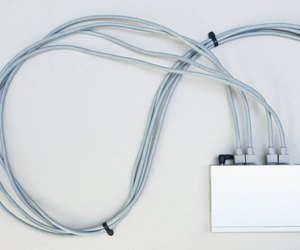 credit: Jupiterimages/Pixland/Getty Images
Innitial Setup
Connect a coaxial cable into the "Cable In" port located on the side wall. This is where the cable signal enters your home. Insert the other end of the cable into the cable port on the back of the Arris modem. Plug an Ethernet cable into one of the "Out" ports on the Arris modem, then insert the opposite end of the cable into the "WAN" port on your computer. Power on the Arris modem and the computer. Both devices have a green light appear when powered on.
Arris Setup
Look on the bottom of the Arris cable modem. Listed is an "http:" address followed by a series of numbers. This is the configuration address for the modem. Open the Internet browser on your computer and type in the full address. Press "Enter" and the configuration page loads. Type in "admin" for the user name and password. This is the default setting. If you want to change the user name and password type the information into the "New password" section, directly under the default settings. Place check marks next to the boxes that ask if you are using the modem in conjunction with a cable Internet connection and if you plan on using the modem with a wireless router (you can change this setting at any time if you want). Select "Save" and your Arris cable modem is completely configured. You can close the Internet browser and relaunch it. Once it opens again, the Internet loads and you are all set to browse the Web.