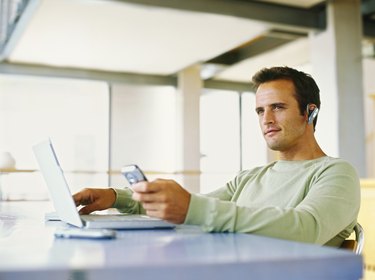 Cell phone technology is advancing with leaps and bounds. Not long ago, cell phones were a relatively recent invention. Most models had only basic features. Now, people regularly use their phones to surf the Web, take pictures and get directions, all in their spare time. Unfortunately, barriers still exist between total integration of cell phone and Internet technology. Sprint and other major cell phone companies still don't allow their account holders access to text message history online. Though inconvenient, this rule is ultimately in place for account holders' privacy.
Electronic Privacy
The main reason Sprint doesn't provide access to texting records online is to protect you. Cell phone companies are subject to the regulations of the Electronic Communications Privacy Act, which states that no one can be shown an individual's communication record, including text messages, without a search warrant. Recent text message privacy cases have focused attention on this issue. Now, cell phone companies strive to limit the amount of time text messages are stored on their networks and delete records once they're no longer needed. This also explains why many phone companies cannot retrieve lost texts once they're deleted, as the records have been purged from both your phone and the central network.
Contact Sprint
In order to get greater access to your Sprint account, including figuring out how many text messages have been used, contact Sprint customer service. If you're dialing from a phone on the Sprint network, press star-2. Otherwise, reach them at 888-211-4727. They will put you in touch with their office of corporate security. This office has greater access to your account settings.
Contact Law Enforcement
In some cases, you may be asked to contact your local law enforcement to get access to your cell phone account. This method doesn't always work, but due to strict privacy settings, it may represent your best chance to gain access to your texting history online.