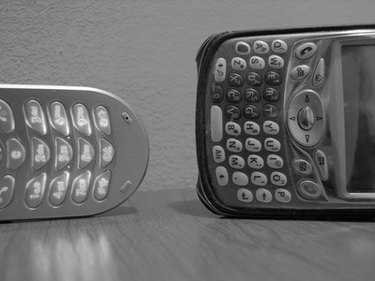 Many Bluetooth-enabled devices, such as mobile phones, support an Object Push Profile (OPP). This profile allows you to transfer files to and from other devices wirelessly. The device you wish to exchange information with must also support the object push profile. The maximum range for Bluetooth communication is 33 feet — your devices will need to be in range with no major obstructions blocking them. You'll also want to choose a file to send that is not copyright protected.
Step 1
Power on the device that is receiving the file. Turn Bluetooth power on (generally found under "Settings" or "Tools") and set it to visible or discoverable.
Step 2
Open the file on the device you are sending from. Press "Menu" or "Options." Select "Copy" or "Send." Choose "Bluetooth."
Step 3
Choose "Look For Devices." Highlight the name of the receiving device from the list that appears. Press "OK."
Step 4
Accept the file transfer on the receiving device if prompted. The transfer will begin automatically and your device will notify you when it is complete.